The next day, I got up, and I made up my way right out of a waist cincher. I took out a tight stretch dress and slipped it over. The corset and the braces were too distinct, so I got on a business outfit from Nina's closet. 
I chose a pair of   heels, which I tried on briefly and then packed them off to carry out with me. It was snowing, and I needed flat boots, but there were none in the closet. I found some with rubber material and metal heel. I tried them on and I started to walk straight to the company.
The more I was walking with them, the more were getting wet with each step. Once I arrived to the company, I slipped into my sexy extremely pointed heels. The soft leather was getting a great look on my feet.  I was a getting a different feeling by just wearing Nina's heels. 
Angie suddenly stood in front of me and checked on me up and down. Then, she asked me for another night adventure at Nina's apartment, so we made an appointment for tonight. 
Today our junior boss was in the house. He walked around the store area, and when I picked up something off the floor. With the corset I had to squat down and my stocking edges peeked out and the high heels I was wearing.  How embarrassing I thought it was. 
Later I had to come to the boss's office. He praised my new business outfit very much and invited me to the Christmas party in New York City.  I told him I had to think it over. 
In the evening getting ready to get home, I put on my boots again, while I realized how much my feet had gotten of wearing those sexy heels. With a lightness, I stumbled home. Arrived at Nina's  apartment.  There were some cute slippers. There were about 4" made of cork. I quickly slipped them in. 
They were fully comfortable, despite their height. Immediately I stood in Nina's bedroom, quickly I undressed what I was wearing. When I remove the corset, my body again demanded this pleasant narrowness to have a nice bubble bath.
I filled the bathtub with hot water and I poured it with scent liquid, I got in to the bathtub. The essence of the soap felt like the smell of roses.  With a sponge I began to rub gently all over my body and I felt the scent that smelled all over my skin.  
After an hour been in the bathtub I was ready to get dress, I grabbed a lovely bathrobe, it was like a pink color and very feminine.  I headed straight to the walking closet and I was thinking of wearing something nasty but at the same time something sexy.
I searched in the stockings drawer and I found some sexy transparent latex stockings. In addition, a latex panties and matched latex suspenders.  I squeezed myself into the latex stockings, the latex panties and the latex garters and they fit me Ok.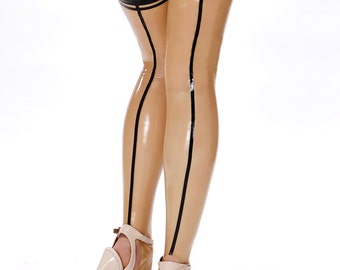 The latex outfit felt like a second skin. A new feeling I never experienced before.  In the closet, I found a strapless leopard dress with a low neckline. That must be it. I slipped in and pulled the corset cords on my back very tight. 
The incorporated metal bars formed my waist extremely curvy and I was surprised myself. Then I slipped into a pair of black patent So Kate from Christian Louboutin.  I was missing only one thing, I needed a nice wig and I remember that Nina had a full collection of wigs in the other section of the walking closet.
I started to walk with those heels and sounding on the floor like a feminine girl getting straight ahead to the wig's section.  There you are, she had lot of wigs of different style and color.  I chose myself a sexy reddish auburn hair and I tried on.  I went back to the mirror and I stood right in front with my eyes clothes.  I opened them up slowly and the view of that sexy body was spectacular.  I felt like a real girl standing in those sexy heels and those latex stockings and the leopard dress making a great figure of that woman. 
Five minutes later the bell rang. Angie arrived and once I opened the door, her eyes were so bright and extremely excited. She would never believe what her eyes saw.  I asked her to come in and I started to shake my bootie with my corset tied under that leopard dress and walking with my sexy heels like a woman.  She was looking at my latex stockings and the way I was managing my heels.
While I was walking with her to the walking closet, she asked me what she could wear for her and I told her that would be a surprise.
Once we were in the bedroom, I looked for a sexy latex underwear for her. Then I found a sexy latex Catsuit with zipper. I asked her to try on the latex panties and the Catsuit.  I zipped her up and crotch to neck. Then I wanted for her to wear a sexy corset.  
Also I added a leather corset with red stripes, and a knee-length leather skirt.  Finally a pair of 6" heels black patent.  Her transform was almost done, then I combed her hair that she looks extremely sexy.  I stood her in the mirror and  her body looked extremely sexy and curvy from her waist.  
She was pleased and we both look together like 2 feminine girl smiling each other and we were ready to leave for a night time.
We decided to go for a Fetish Club and I started to drive with my heels on and feeling the style I was wearing in that moment.  Angie was enjoying the night while I was driving.  Finally we arrived to the club and once I got out of the car I gave the car keys to the valet parking and he was staring at me like he was checking on my feminine way.  Angie was laughing a little bit because she knew who I was.
Once we got in, all the men whistled on us, the women joked us jealously, which we enjoyed very much. We had a couple of Margaritas and chilling a little bit.  A couple of guys approached to us, asking if we wanted to dance with them.  I said no, sorry I'm with my girlfriend having a great moment.  
Then Angie with a quick reply she grabbed my face and gave me a kiss right in my red glossy lips. I had on a very gently and sensual kiss from her.  My hormones started to increase and my heart was beating so fast.  I accepted that kiss so much that many guys were looking at us.
I felt like a lesbian girl and I couldn't stop what I was feeling and the way that Angie was accepting me crossdressing as a woman.  My long eyelashes vibrating with that kiss, same as her, it was pretty excited.  Angie thanked me for that lovely night that we never wanted to be finish. 
to be continued...